Workshop in the time of the pandemic
Tekst: Anne-Lise Aakervik | Foto: synlig.no
Tired of digital meetings with sharing trouble and microphones that never go off? The entrepreneurs behind Cohere develop a virtual meeting room where you can be creative and play with your colleagues again.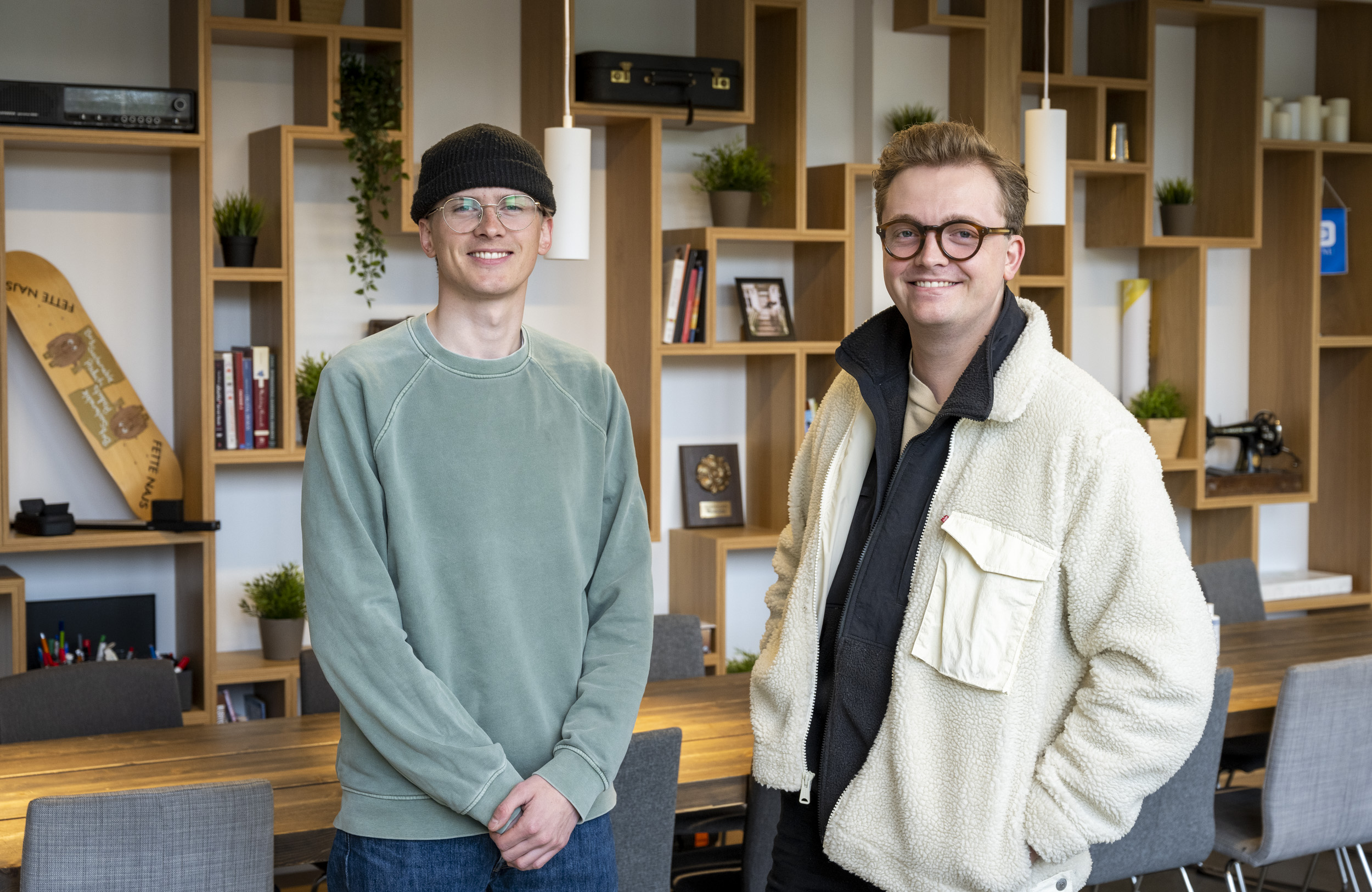 Andreas Ore Larssen and Sondre Kvam are two of four who have started Cohere. In addition, the group consists of Lars-Kristian Dahl who studies computer technology, and Tobias Wulvik who works in industrial design.
Instead of going to workshops, you put on your VR glasses, grab the joystick and enter a virtual room with colleagues from other places waiting to have a creative workshop. The walls are clean, and an unlimited stack of notes can be hung up everywhere, sorted, and stored with your voice. 
– We want to give people a feeling of energy in digital meetings and workshops, says Andreas Ore Larssen. He is the project manager and one of four founders of Cohere. These days we are just tired after digital meetings that last too long. Larssen is now taking a master's degree at the School of Entrepreneurship.
Tired of steering at each other's face
After over a year of pandemics, we are tired of staring at each other's faces in meeting after meeting. Body language is completely absent in these meetings, and although screen sharing and other aids are available, as digital group rooms, it will never be able to fully replace a physical workshop. The VR application Cohere will not do that either. But they want it to get as close as possible.
– We explore how Virtual Reality (VR) can improve creative workshops in distributed teams. We probably believe that the digital meeting room will still be used a lot also after we have finished the pandemic. What we want to achieve with Cohere is to create the feeling that you are in the same world, where you can talk to each other, stick notes on the walls, and write down thoughts and input. A room where you can also see each other's body language, says Sondre Kvam, who studies industrial design.
It is especially the need to come together for a creative process that suffers in the digital meeting world. It is difficult to pursue creative, interdisciplinary problem solving when you sit and stare into each other's faces all the time. With Cohere, they want to be able to gather the team across to the workshop wherever they are, in a separate room, with access to virtual Post-it notes and solutions that allow you to talk at the same time without overpowering each other
 They created an MVP (Minimum Viable Product) and quickly found out that it is necessary to have several pilot customers who can help decide what is important to them in such a process. They sent invitations to several large companies and eventually got Jotun, Schibsted, Posten, SBanken, and TrønderEnergi on-board
– It was incredibly fun with such a good response, says Andreas.  
With support from NTNU Discovery, they were able to buy VR glasses and other necessary equipment to start the pilot project. Here, customers test the ease of use, such as hanging up notes, relating to each other in a room, and how they should be able to get the text on paper. They control what happens with the joystick in each hand. The feedback from the pilot customers is important to get a product and an experience that makes this work in the future.
– We quickly concluded that sitting with a keyboard to write down what should be on the notes in the VR room was too complicated. So we have used relatively new technology, namely speech to text. And it works very well, says Andreas.
It is not yet clear how the people participating in the workshop will appear to each other. We have not decided whether the participants will be able to make an avatar or whether there will be other types of "human" figures, Sondre says. 
– The important thing is that people feel a connection to each other and get to collaborate more freely and spontaneously than in a digital meeting. There is a lot of research on co-creation in the virtual world, including what you might be able to do in this world that you cannot do as well in the real world.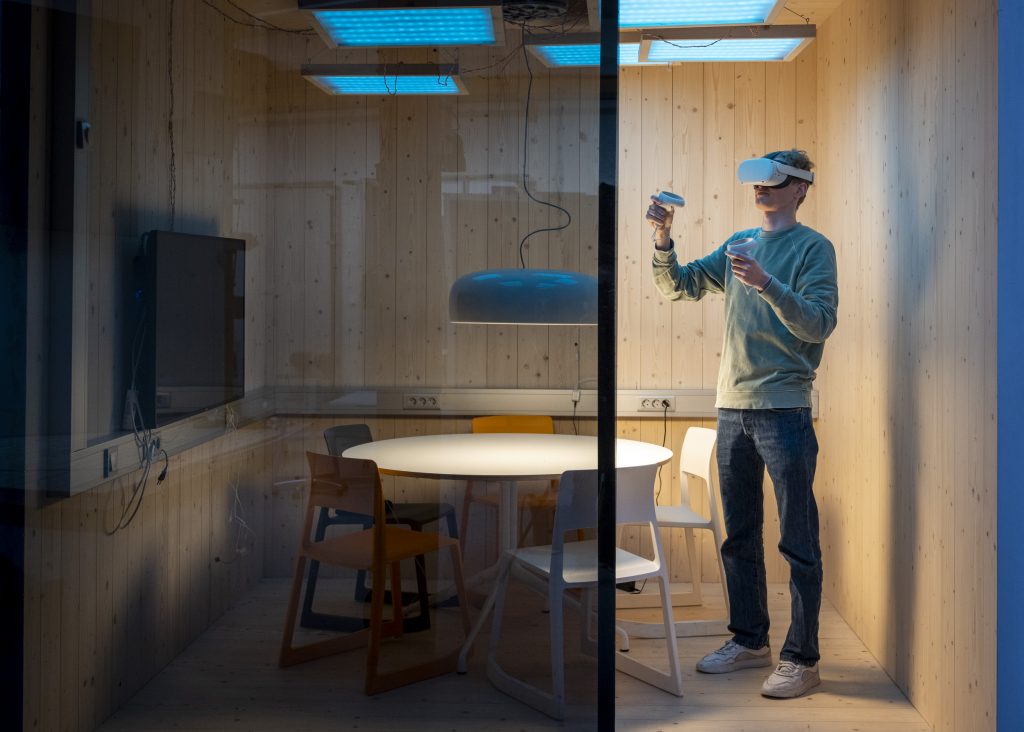 – But of course, you get tired of being in a VR room as well – not least wearing a VR mask, says Andreas. So, this is something we test in the pilot. How long can you work and how often should you take breaks? The experience we have gained now is that you can hold on for about 30 minutes before it is okay with a 5-minute break. And participant tells us that they feel more energetic after these meetings than after hour-long digital meetings in front of the screen.
There are still some reefs in the sea for Cohere, both technically and materially. But when the application to FORNY went through, they could breathe a sigh of relief and now have good opportunities to find solutions to the challenges.
           – Now we can spend time to create a product that makes it fun and exciting to participate in a digital workshop with participants from different places, says Sondre. 
– In the long run, we hope to make money by offering companies a creative VR area tailored for them, where they can host good interdisciplinary and creative meetings, Andreas Ore Larssen concludes.
Kontakt:
Prosjektleder
Jan Hassel
Epost: jan.hassel@ntnu.no
Telefon: 906 53 180
Kontor: Hovedbygget, sokkel

Håvard Wibe
Epost: havard.wibe@ntnu.no
Telefon: 41 47 37 68
Kontor: Hovedbygget, sokkel