Lifting assistance on your car
Tekst: Anne-Lise Aakervik
Foto: synlig.no
The team behind the roof rack Dropracks hope to revolutionize how you load and unload your car roof. Forget lifting gear onto the roof—the rack will come to you!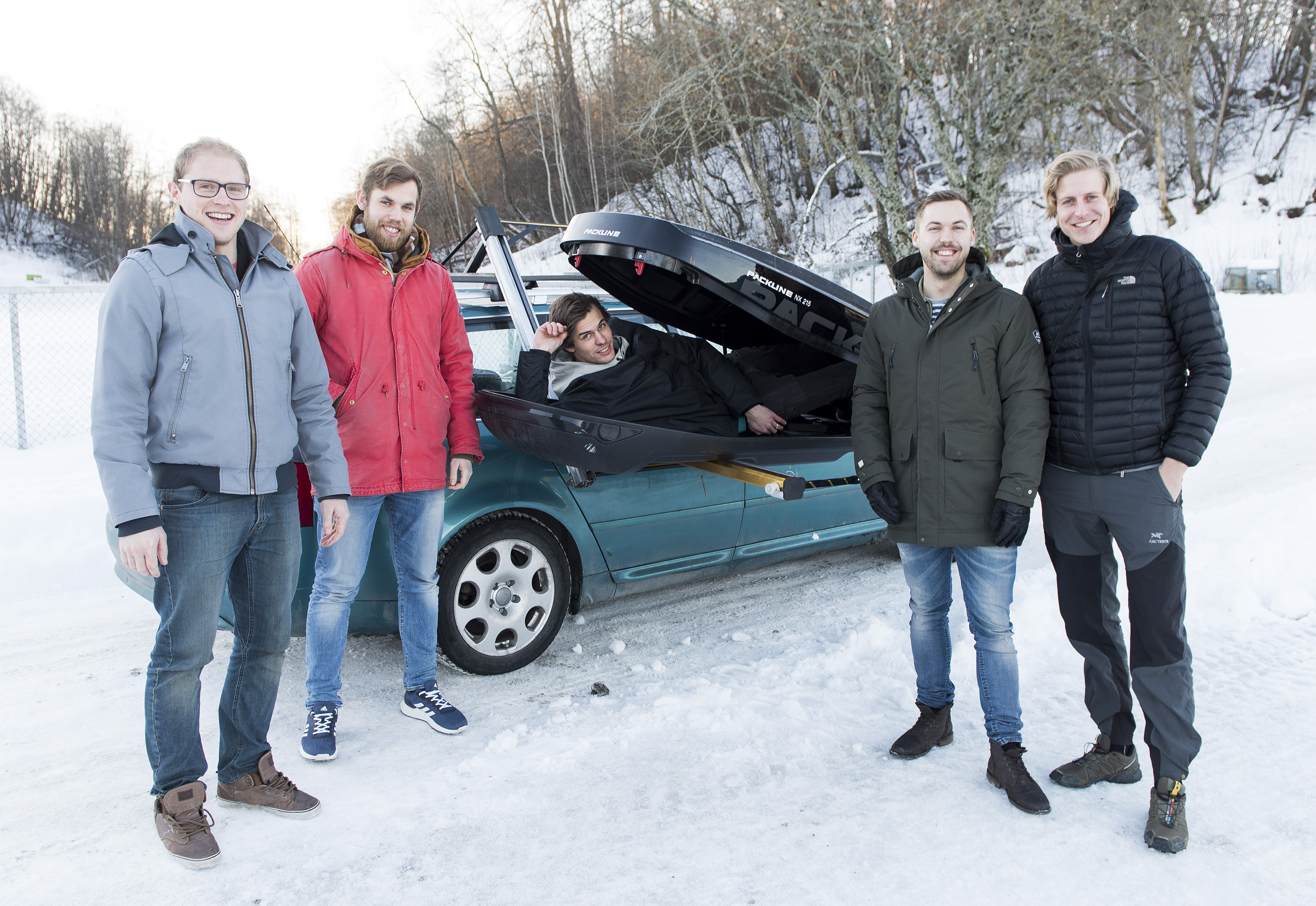 For 12 days, the team spent 24 hours a day in each other's company, driving nearly 4000 kilometres in a motorhome. This turned out to be a key part of the development process, as they drove to present their invention at the world's largest motor show in Frankfurt, Germany, last autumn.
"You could say we got to know each other reasonably well." Peter Vollen grins across the table, but quickly gets back on track. "In order to finish on time, we had to prioritize. If we hadn't had the motor show as our milestone, we probably would have spent much longer on it, and it wouldn't necessarily have been any better."
Dropracks is a roof rack that takes your hobbies into account. Bikes, kayaks or cargo carriers attach to the rack, which lifts your gear up on and down from the roof. No more standing on the door sill trying to reach, or needing two people to lift things onto the roof— this lifting device makes it easy to load and unload your car's roof.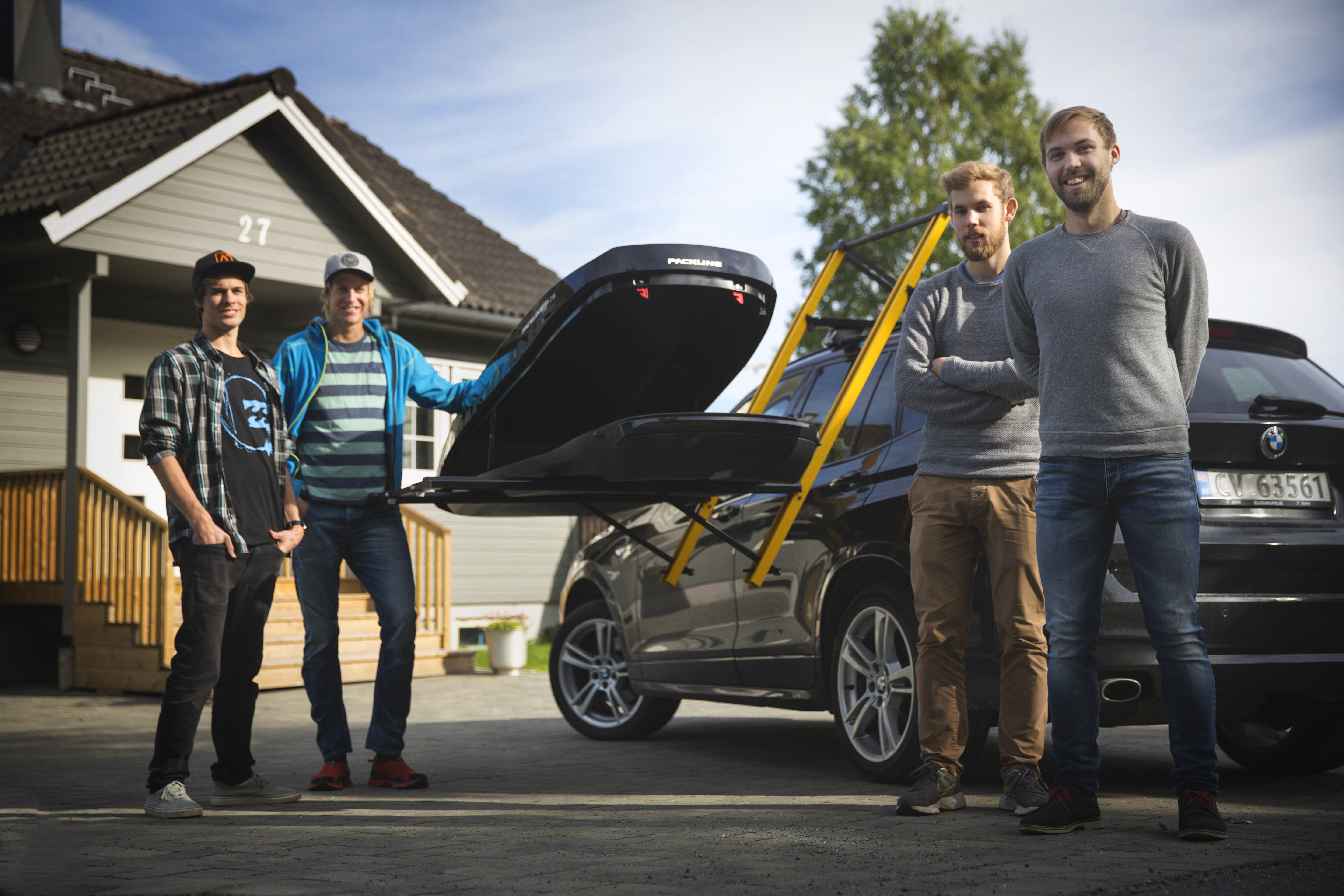 The team is finalizing their innovative roof rack Dropracks. From left: Helge Dimmen, Gjermund Nordskar, Teo Raanaas and Peter Vollen (far right). Not present: Pål Jørgensen.
One rack, many lifts
The idea for Dropracks first emerged during studies at the NTNU School of Entrepreneurship, where three of the innovators met. All of them had, at one point or another, struggled to get bikes, kayaks and cargo carriers up on and down from the roof of their cars. "Then we thought to ourselves: What if we could make the roof rack come down to us?" Vollen explains. The rest just developed from there.
Along the way, they recruited two other students from the Industrial Design Engineering and Materials Science and Engineering programmes. The five-strong team are all co-owners of Dropracks. They have spent countless hours on market research and product development, and their efforts are now paying dividends. Their technical solution makes it possible to shift the loading area diagonally down from the roof, while keeping it parallel to the starting position. The rack stops at a comfortable working height for the person loading or unloading the gear. Because the system uses standard T-tracks, Dropracks is compatible with any roof rack accessory, from kayak or bike racks to cargo carriers, regardless of brand.
Considerable market
The five-man team still work together in the same office at Gløshaugen Innovation Centre. A third of the room has been converted into a workshop, and the rest of the space is taken up by a single, giant desk with five chairs around it. The team is working HARD!
"That's probably why we didn't run into any major problems on our trip to Frankfurt last autumn. We drove far and lived in close quarters, but that was a small price to pay for what we got out of it. Getting publicity and connecting with potential partners is crucial," Vollen points out.
The Frankfurt fair attracts approx. 4,000 presenters and 40,000 visitors, which more or less equals the size of an average Norwegian town. The feedback they got was invaluable.
"For example, we were told there would be a considerable market for this type of rack in Asia. People there mostly don't utilize the roof at all, simply because they have trouble getting gear up there. Australia is also a potential market for us. Throughout the process, we have received so much support from others, in the form of both funding and expertise."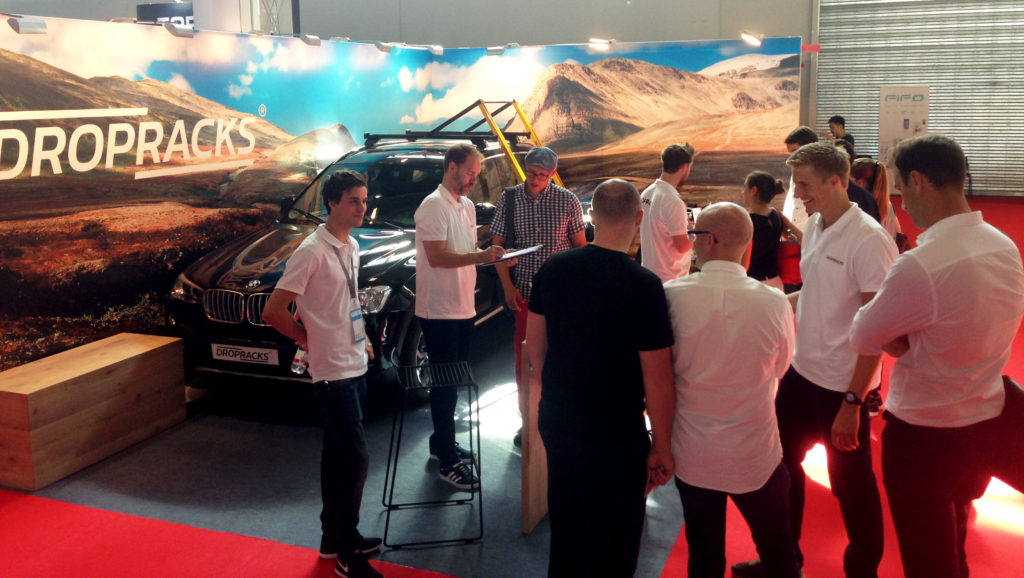 Dropracks was one of very few student enterprises at the Frankfurt motor show this spring. They garnered a lot of publicity and made many good connections.
Support and collaborative partner
Dropracks has received grants from NTNU Spark, Innovation Norway, and the Research Council's FORNY StudENT programme. They also did a crowdfunding event during the Technoport conference. In addition, they applied to NTNU Discovery for a modest NOK 23,000 seed grant to address a specific problem. They have also enjoyed valuable mentoring and advice along the way.
"We filed for patent protection for our solution, and that may have been the smartest thing we have done so far. We got a lot of conflicting advice along the way," Vollen says with a resigned sigh. "Some people said there was no point, whereas others said it would be a good idea. We did the smart thing, making sure noone can copy our product. We probably wouldn't have made it otherwise, because it's relatively easy to copy mechanical solutions."
With the patent safely filed, the team can get back to work. There is no shortage of challenges, even though they have several prototypes. The rack has some conflicting specifications, such as low weight and high strength, and the user must be able to safely lower and raise the rack.
We have to sort out these challenges completely before we are satisfied, but we are always looking for a collaborative partner. We do not want to become a production company, so our goal is for a roof rack manufacturer to recognize the value of our product and want to include it in their product portfolio. The next milestone for the team is to get their product ready for production and find a partner in 2016/2017.
Kontakt:
Prosjektleder
Jan Hassel
Epost: jan.hassel@ntnu.no
Telefon: 906 53 180
Kontor: Hovedbygget, sokkel

Håvard Wibe
Epost: havard.wibe@ntnu.no
Telefon: 41 47 37 68
Kontor: Hovedbygget, sokkel