Fuel-efficient and stable ships with wings
Tekst: Anne-Lise Aakervik
Foto: synlig.no
Since the late 1800s, researchers have toyed with the idea of putting wings on boats. Now it looks like the team behind Wavefoil will succeed. But to what end? To save on fuel, increase propulsion and stabilize the vessel in strong winds and big waves.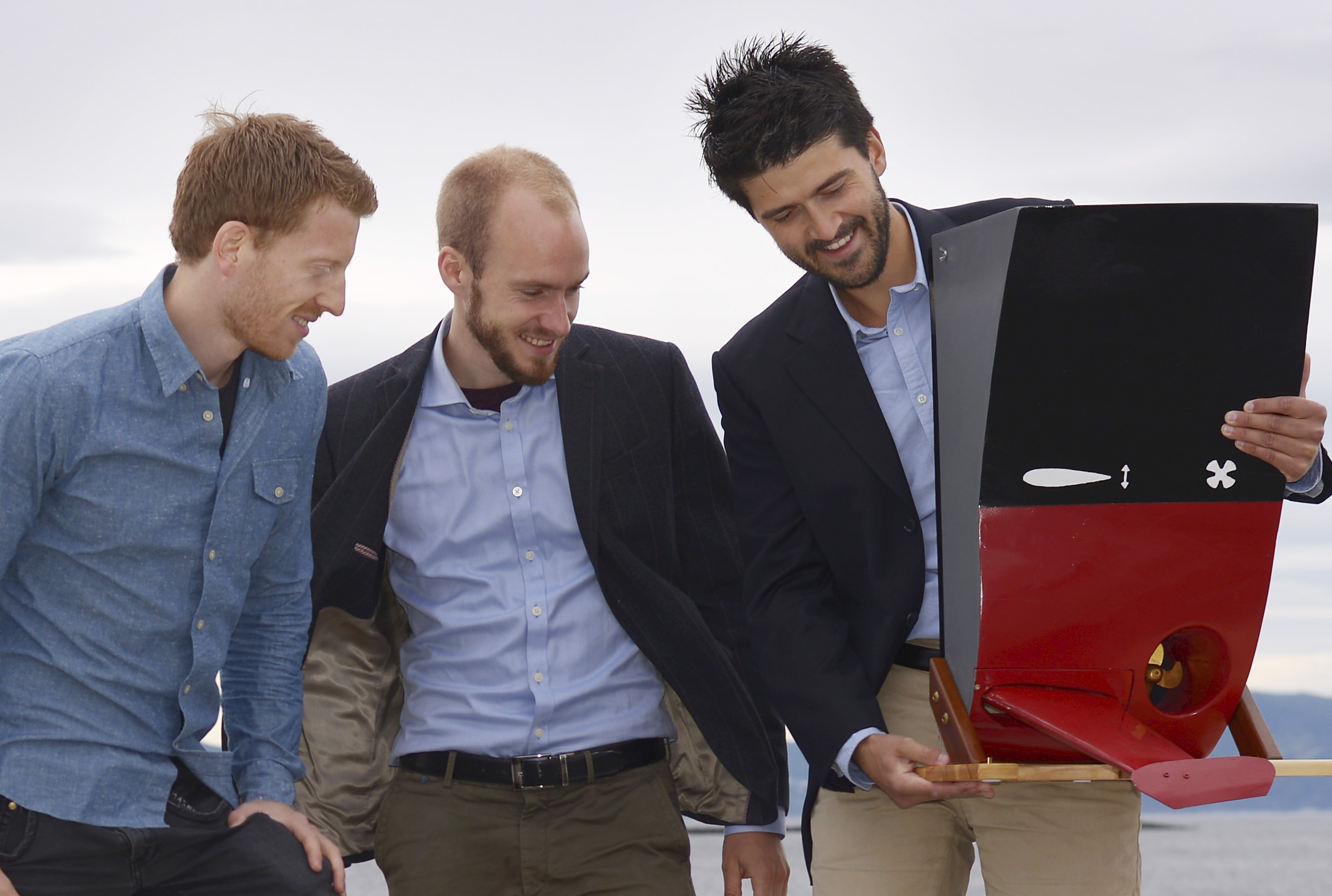 However strange it may seem, fold-out wings—or foils—improve fuel-efficiency and reduce emissions in strong winds and heavy seas. And, as you will see, this is not a novel idea.
In Norway, the idea was pioneered by Einar Jakobsen from Sørumsand, who was an electrical engineer.  In 1978, he started working on a so-called foil propeller to replace or complement regular screw propellers. Jakobsen couldn't make it work, however. In 1998, he sent his notes and drawings to NTNU.  The package wasn't opened until 2010, when Professor Sverre Steen and doctoral candidate Eirik Bøckmann started looking into his work. "We were inspired by Jakobsen's work," says Bøckmann, who also corresponded closely with Jakobsen. "Sadly, he died, well into his 90s, shortly before we could launch our concept."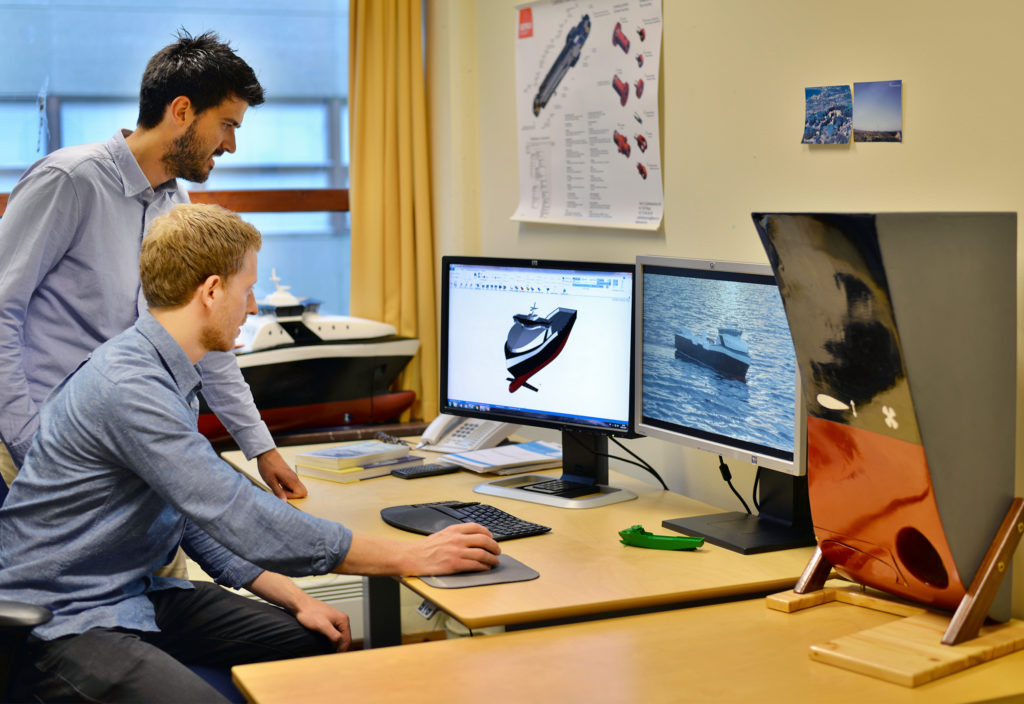 Audun Yrke(stående) og Eirik Bøckmann med modellen som viser hvordan de kan bidra til å redusere drivkostnadene på passasjerskip.
Converting wave energy to propulsion
This was the backdrop for Eirik Bøckmann's work on his doctoral dissertation in 2010, where he simulated the effects of the foils. "I could see that it worked, but we couldn't come up with a practical solution for installing and retracting the foils inside the hull."
The idea is that the wings, which are installed at the bow of the ship, "steal" energy from waves, converting this energy to propulsion. "What we're essentially doing with the foils is to exploit wave energy in a very efficient way. The foils generate an enormous lift through the water and essentially push the ship forward.  We would be surprised if ships of the future do not take advantage of this technology. It would reduce fuel costs by up to 30 percent, and, as a bonus, it would make sea travel more comfortable for passengers. The average express boat could save around 2–3 million kroner in fuel every year by implementing our solution," says Bøckmann.
"I know how to solve this"
In late 2015, he was working as a postdoctoral fellow on a similar project when he met Audun Yrke, who, at the time, was a third-year marine technology student. Yrke loves to chip away at seemingly impossible problems.
"The first thing Audun said was that he had solved how the foil (wing) could be retracted. He described his solution to me, and we both believed it was worth exploring," says Erik.
"I guess I had one of those Eureka moments," Audun says, smiling. "When the idea came to me, I immediately went to the workshop and built a model that seemed to work. Leaps and bounds have been made in materials technology since the last time anyone took a crack at this, including carbon fibre technology, which is what we use. This makes it possible to find solutions that simply weren't possible before."
Working towards commercialization
Audun and Erik started Wavefoil AS in 2016, and they are currently in the process of commercializing the technology they have been working on since 2010.
"We believe our concept can help make sea travel more fuel-efficient and more comfortable for both passengers and crew members in heavy sea."
The shipping industry is a very conservative industry. It was always going to be an uphill battle to introduce a solution this unorthodox. The solution would also have to be compatible with current ship designs and how these are used.
In the spring of 2017, Wavefoil AS won a grant from NTNU Discovery to keep testing wave foil components to verify that they can withstand the stresses they will have to endure.
"This grant is very important to us. We are simply working to eliminate any and all problems that may arise under certain types of stress. We are working with industry partners, such as Servi Group, cDynamics and Easy Form."
From hobby to career
The company also secured NOK 5 million in funding through the Research Council's FORNY 2020 programme. This means they are finally able to work on the project full time while also earning a modest salary. Until now, they have largely paid their own way and worked on the project alongside other jobs.
"So far, it's been an incredible journey, from scribbled notes and models built from polystyrene and parts from discarded blinds, to testing foil solutions and ship models. We have learned that prototype building is a key element in the creative process, and it's fun to see what the different models can do," says Yrke.
They have partnered with Sven J. Kolstø from Cofounder. This autumn they are moving into their own office space at Pirsenteret in Trondheim. Then, in the spring, Wavefoil is testing a prototype full-scale model of its foil module, which may yield more answers.
Kontakt:
Prosjektleder
Jan Hassel
Epost: jan.hassel@ntnu.no
Telefon: 906 53 180
Kontor: Hovedbygget, sokkel

Håvard Wibe
Epost: havard.wibe@ntnu.no
Telefon: 41 47 37 68
Kontor: Hovedbygget, sokkel