Better conditions for premature infants
Tekst: Anne-Lise Aakervik
Foto: synlig.no
A probe the size of a coin, chock-full of technology, may help prevent brain damage in premature infants.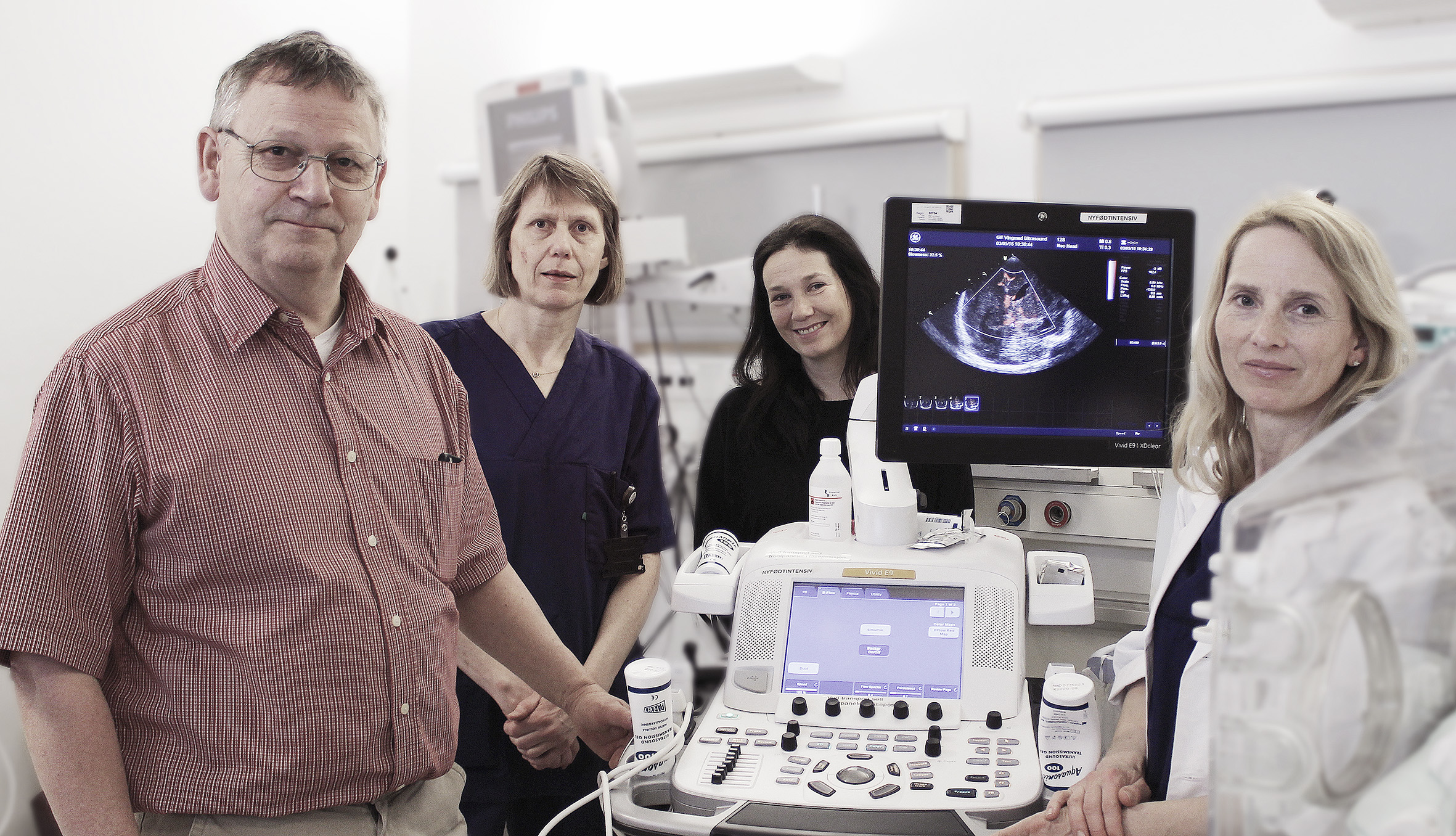 The Neonatal Intensive Care Unit (NICU) at St. Olavs Hospital is a hushed and protected place. This clinic treats the most vulnerable newborns, tiny infants who have come into this world much, much too early. They are fighting to stay alive, and the NICU is giving them all the help they can. NeoDoppler is a brand new tool based on ultrasound technology that can help stack the odds in these infants' favour. NTNU's Department of Circulation and Medical Imaging (ISB) collaborated with the NICU at St. Olavs Hospital in the development of the tool. The hope is that NeoDoppler can help prevent brain damage in premature infants.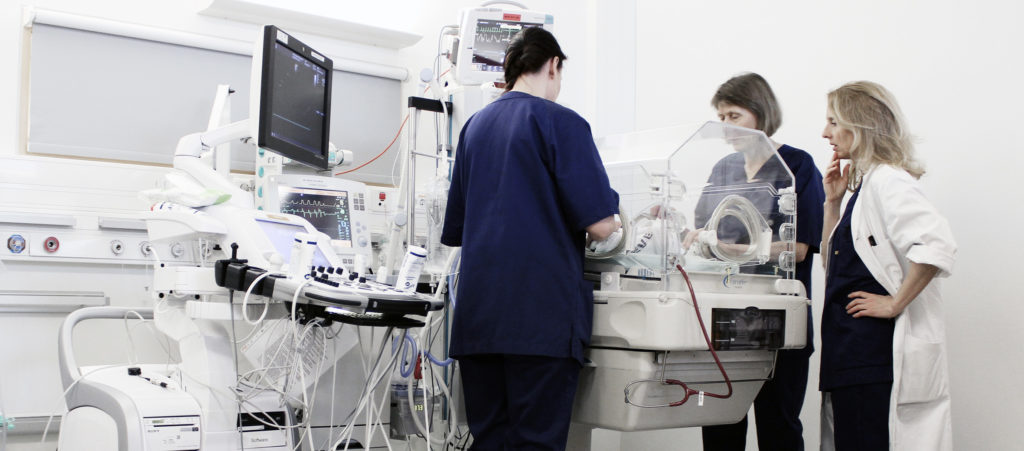 Pay a high price
"On a global scale, every one in ten infants is born preterm, which in itself increases the risk of brain damage," says Ragnhild Støen, head of the Neonatal Intensive Care Unit at St. Olavs Hospital.
Approx. 75 percent of the most premature infants suffer brain damage, which may manifest in varying degrees of functional impairment later on. The risk of brain damage is at its peak during the first few hours and days after a preterm delivery, because blood-flow to the brain is at its most unstable during this time.
"It is imperative that we find a way to continuously monitor blood-flow to the brain during this vulnerable phase, as this would make it possible to intervene medically and reduce the number of injuries. Currently, we have no good solutions for continuously monitoring cerebral circulation in premature infants," says Siri Ann Mauseth, project manager with NTNU Technology Transfer (TTO). "Now, we have finally been able to develop a tool that allows us to do this. NeoDoppler gives a continuous reading of cerebral blood-flow. Any anomalies will therefore register immediately, and doctors will be able to prevent brain damage by intervening in time."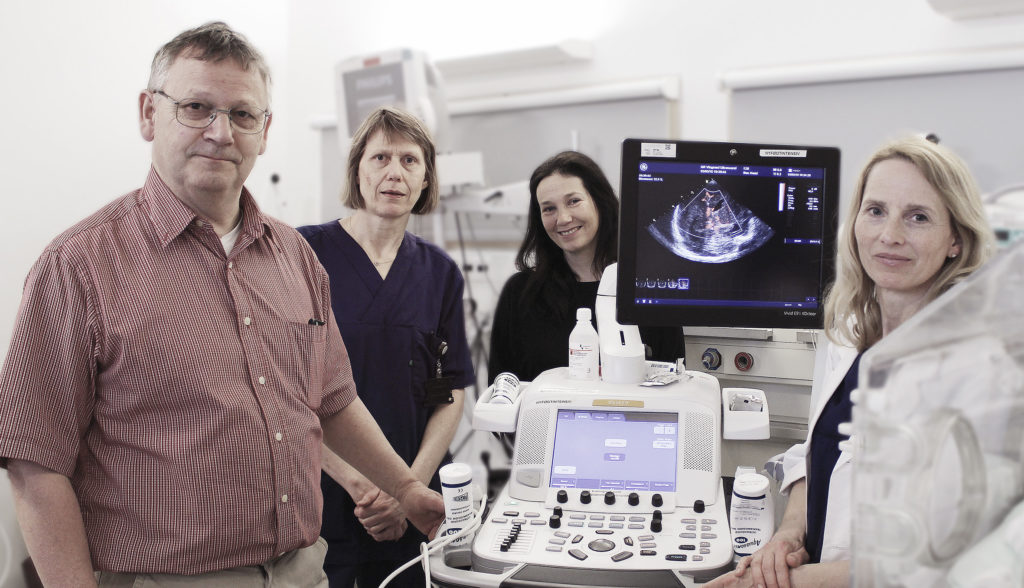 Ved hjelp av ultralyd kan man forutse muligheten for faren for hjerneslag hos premature barn. Ennå gjenstår en del utvikling men dette firkløveret har troen. Fra venstre: Professor Hans Torp, avdelingssjef Ragnhild Støen ved Avdeling for nyfødt intensiv, prosjektleder fra NTNU TTO, Siri Ann Mauseth og overlege Siri Ann Nyrnes ved barneklinikken.
Simple, yet brilliant
"This is the tool every paediatrician has been hoping and waiting for. This is major progress; we will be able to monitor blood-flow in an entirely new way," says Senior Consultant Siri Ann Nyrnes at the Children's Clinic. She has been doing research into ultrasound technology and paediatric cardiology for many years, and she has played a central role in the development of NeoDoppler.
The man behind the actual invention is Professor Hans Torp at NTNU's Department of Circulation and Medical Imaging. He is part of the world-leading research community in the field of medical ultrasound in Trondheim.
"In many ways, the solution to this "problem" is relatively straightforward, and once the idea stuck in my head, I knew I had to try it out," he says modestly, without giving away too much.
A test probe was developed and tested on suitable capillaries in the wrist. The results were inspirational, and good enough to take the project to the next stage. Several simple tests showed promising results, and in 2015, NTNU Discovery granted seed money to develop the project further.
Continuously monitor
NeoDoppler's unique feature allows it to continuously monitor cerebral circulation, while being entire user-independent. The probe itself is the size of a coin, and attaches to the soft spot on top of the baby's head (the fontanelle).
"It is essential that the probe be as unintrusive as possible, so that the baby is not needlessly stressed," explains Støen. "Once attached, the probe sends ultrasonic impulses into the brain to monitor blood-flow. The results are then displayed on a monitor," says Mauseth.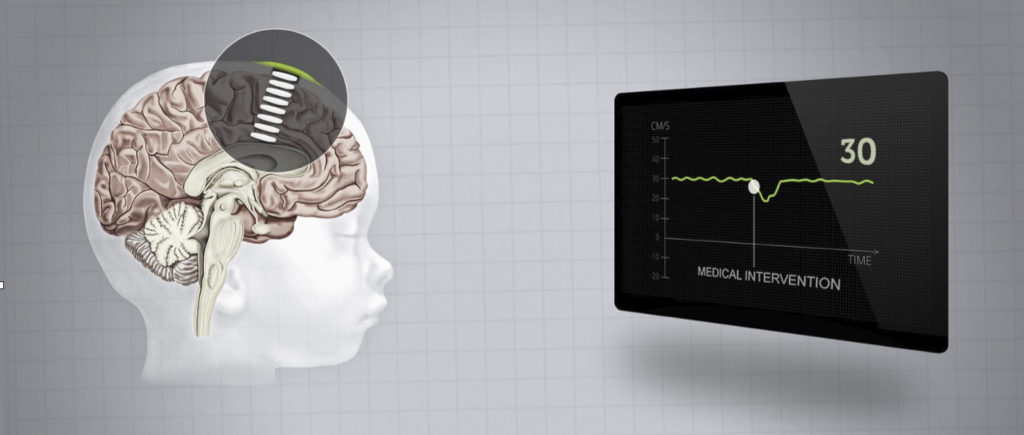 A new standard
"The next step is to carry out further verification and develop the prototype. We will begin clinical trials on infants in early 2017," says inventor Hans Torp.
"This would not have been possible were it not for the synergies between the different communities at St. Olavs Hospital and NTNU's ultrasound group, which is a 40-strong expert team. We have specialists in premature infant monitoring and research expertise in ultrasound imaging and paediatric cardiology. This makes for a good and relevant process, and it makes it possible to develop high-quality innovation projects," says Støen.
"Should NeoDoppler prove to be a functional tool, and we believe it will, it will set a new standard in infant monitoring," says Siri Ann Nyrnes. "In time, we believe NeoDoppler will become an innovation that will prevent brain damage in premature infants."
Facts:
NeoDoppler is a new ultrasound imaging tool that makes it possible to monitor cerebral blood-flow in premature and sick infants. NeoDoppler is patent pending. Over the next two years, the project team will develop and verify a fully functional prototype of NeoDoppler, hopefully proving its clinical usefulness. This will serve as a foundation for further commercialization, and the goal is to make this technology available for all premature infants. Download information sheet.
In 2016, the project was awarded a project grant of NOK 1.45 million from NTNU Discovery. By earning this grant, the team also secured verification funding from the Research Council's FORNY programme for further testing and development. In total, the project has received approx. NOK 8.2 million in funding from NTNU Discovery and FORNY. The project also signed an innovation PhD candidate in 2016 to carry out the clinical verification. Paediatrician Sigrid Vik will carry out the clinical trials under the supervision of Siri Ann Nyrnes, Ragnhild Støen and Hans Torp.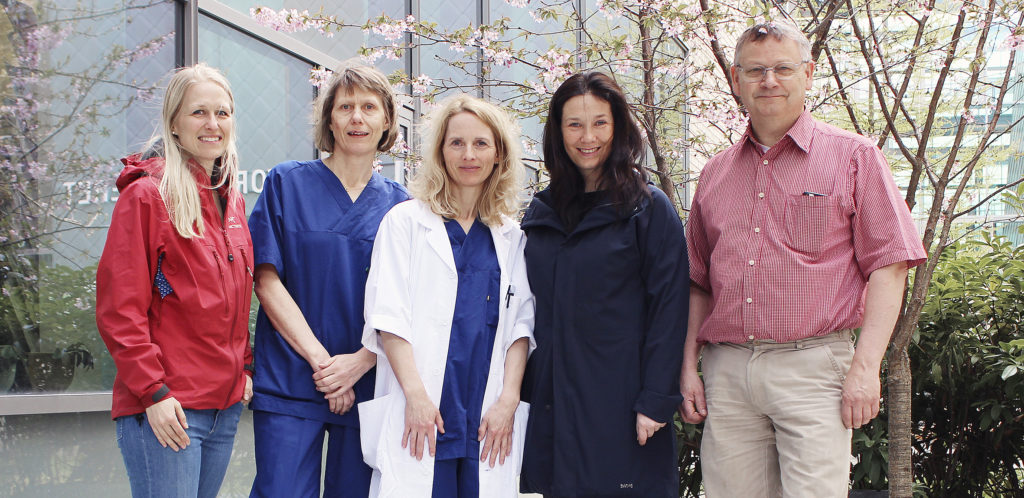 Project participants
From left:
Business development: Siri Bye Guldbækhei Johansen, NTNU Technology Transfer AS.
Dr. Ragnhild Støen, MD, PhD. Head of the Neonatal Intensive Care Unit at St. Olavs Hospital and Associate Professor at the Department of Laboratory Medicine, Children's and Women's Health (LBK), NTNU.
Dr. Siri Ann Nyrnes, MD, PhD. Senior Consultant of Paediatric Cardiology at the Children's Clinic, St. Olavs Hospital and ultrasound technology researcher at the Department of Circulation and Medical Imaging (ISB), NTNU.
Project manager: Dr. Siri Ann Mauseth, MD. NTNU Technology Transfer AS.
Inventor: Professor Hans Torp. ISB, NTNU.
Not pictured:
Prototype development: Jørgen Avdal, Alfonso Molares, both post-doctoral fellows at ISB, NTNU, and Tonni Johansen, SINTEF Acoustics.
Sigrid Dannheim Vik, Senior Consultant at the Neonatal Intensive Care Unit and PhD candidate at ISB, NTNU.
Kontakt:
Prosjektleder
Jan Hassel
Epost: jan.hassel@ntnu.no
Telefon: 906 53 180
Kontor: Hovedbygget, sokkel

Håvard Wibe
Epost: havard.wibe@ntnu.no
Telefon: 41 47 37 68
Kontor: Hovedbygget, sokkel