Equipping wheelchairs with smart functionality
Tekst: Anne-Lise Aakervik
Foto: Synlig.no v/Erik Børseth
Her private experiences using a wheelchair in adapted physical activity made Julia Baumgart start research on improving physical health in wheelchair users. The goal is letting the wheelchair itself work as a fitness tracker, and measure physical activity.
.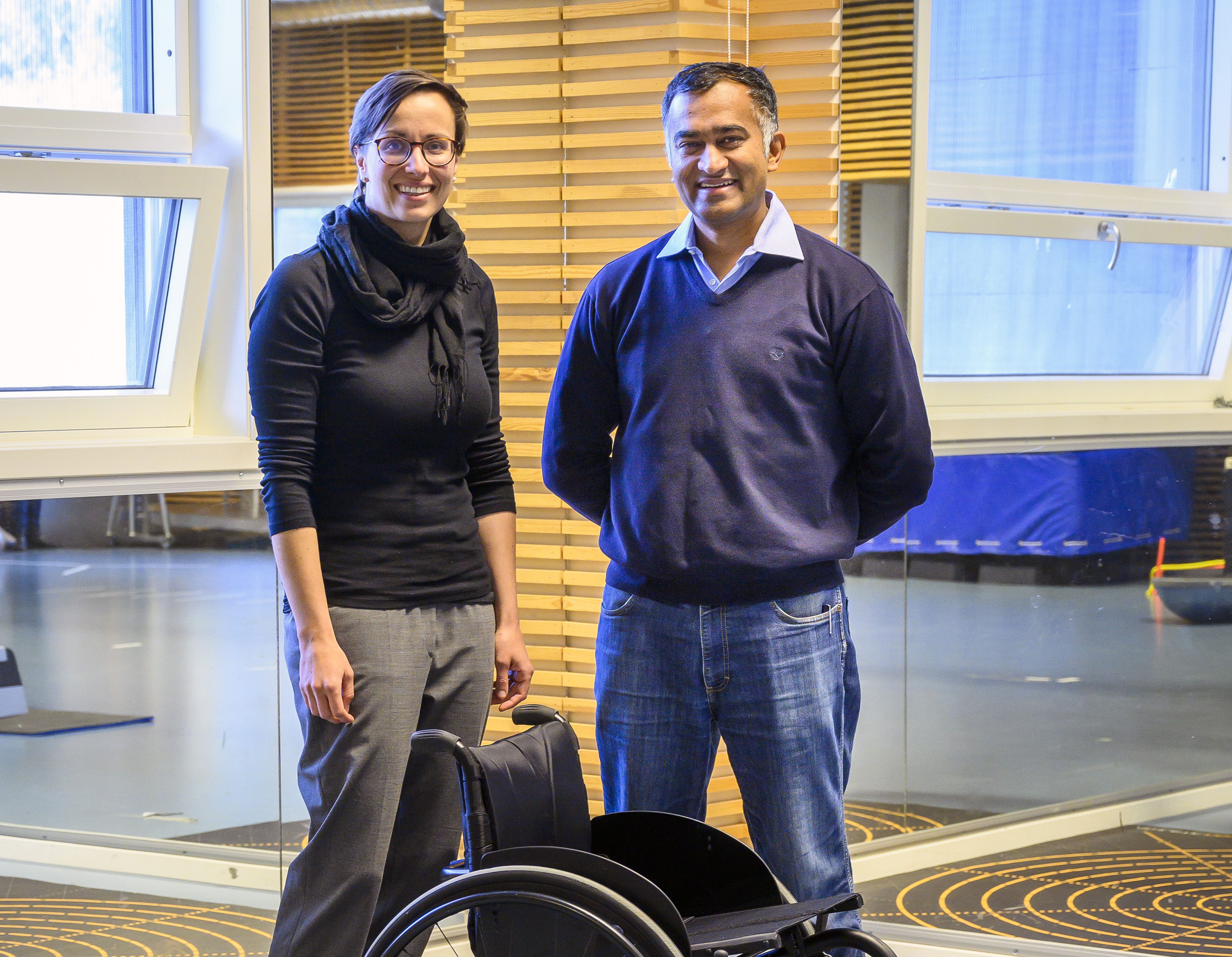 Their goal is to make it easier for wheelchair users to monitor their activity, by equipping wheelchairs with capabilities as fitness trackers. – Wheelchair users are far less active than they believe, so a push in the right direction would be beneficial, says researcher Julia Baumgart and Innovation Manager Vikram Singh Parmar at NTNU.
On a giant treadmill designed for roller skiing, Julia Baumgart is sitting in a wheelchair, keeping up with the pace of the moving band. Meanwhile, her oxygen uptake is measured, and sensors within the chair catch both the weight and activity of her body. In this manner, different sensor kits and activity monitors are tested in a current project at Trondheim's "Senter for Toppidrettsforskning" (Center for Research on Elite Sports), or SenTIF.
– We already know wheelchair users' activity levels are too low. At SenTIF, we have collected data from Para Ice Hockey (sledge hockey) and Para Cross Country (sit-skier) athletes in order to assess their energy expenditure and physical activity. Surprisingly, even this group struggle to achieve sufficient health indicators to minimize the risk of cardiovascular disease etc., states Julia Baumgart, after getting off the treadmill. She is a postdoctoral fellow with the Institute of Neuromedicine and Movement Science, and project coordinator for Paralympic research.
More movement is needed
It is a common misconception that making your way around daily life in a wheelchair will supply all the exercise you need; it turns out that wheelchair users stimulate very little musculature through everyday activity. This leads to a variety of health issues in wheelchair users, including obesity, diabetes and increased risk of cardiovascular issues. Additionally, awareness is low about how inactive they really are, as well as how active they need to be in order to achieve good health.
Measuring energy expenditure reliably
Innovation Manager Vikram Singh Parmar states that, even though many have tried to measure activity and energy expenditure among wheelchair users, no one has achieved satisfactory results. In Trondheim, there are several world class research communities within the disciplines of elite sports, medical health and digital medicine. In an interdisciplinary research project, collaborating with, among others, CERG (The Cardiac Exercise Research Group) and students from "Smart Sensor Solutions", SenTIF aims to develop an algorithm that may help supply reliable measurement of physical activity, and estimate the energy expenditure of wheelchair users both during exercise and in the course of everyday activities. Funding for a pilot project has been supplied by NTNU Discovery in order to get them started.
The wheelchair as a fitness tracker
We work in an interdisciplinary fashion and want to use research-based methodology in order to develop a more valid solution than what is currently available in the market, says Julia Baumgart.  – At the moment, we are testing a few parameters by sensors in the wheelchair – on the wheel and in the seat –these will later be supplemented by heart rate measurement, so that we can work out an individually adapted algorithm. This way, the wheelchair will function the same way as a fitness tracker, replacing the one you would wear on your wrist.
Julia Baumgart is a postdoctoral fellow with the Institute of Neuromedicine and Movement Science.
From standardized to individually adapted
– We are on our way, but these things take time, says Vikram Singh Parmar. We have the knowledge, and we are trying out different technological solutions.
Laboratory testing means testing standardized equipment, but in everyday life, opportunities to standardize are limited. There, sensors are tested in a completely different context, so we need to adapt them. At this point, there are several commercial sensors that we can use for these tests. We check where to place them on the wheelchair in order to yield optimal feedback, and where they should be placed on the body of the user.
–  If, after this pilot project, we can come up with an algorithm that measures and translates this data into energy expenditure and health benefits, we would like to continue, and develop a functional product, says Parmar.
– The wheelchair user, not the chair itself, is our target here, but being an important tool, the chair is a vital element. We want a sort of "plug and play" solution where, after mounting the sensor kit, you can view energy expenditure and activity e.g. on your cellular phone, says Baumgart.
Having wheelchair users become more active through monitoring their physical activity will lead to health benefits, and thus act as a cost-saving measure for the health services.
Facts:
There are about 65 million wheelchair users worldwide. Mobilizing only a fraction of these to lead more active lives will have a positive impact on both healthcare budgets and quality of life.
Wheelchair users are more inactive than they think, and have an increased risk of cardiovascular disease, diabetes, obesity and some forms of cancer. Developing an individually adapted activity monitor that makes achieving good health easier also for wheelchair users is the goal of the research group in this project.
Kontakt:
Prosjektleder
Jan Hassel
Epost: jan.hassel@ntnu.no
Telefon: 906 53 180
Kontor: Hovedbygget, sokkel

Håvard Wibe
Epost: havard.wibe@ntnu.no
Telefon: 41 47 37 68
Kontor: Hovedbygget, sokkel