Driverless across the canal
Tekst: Anne-Lise Aakervik
Foto: synlig.no
A small boat is quietly flitting around Trondheim's harbour basin. The world's first self-driving bike and passenger ferry is currently being tested.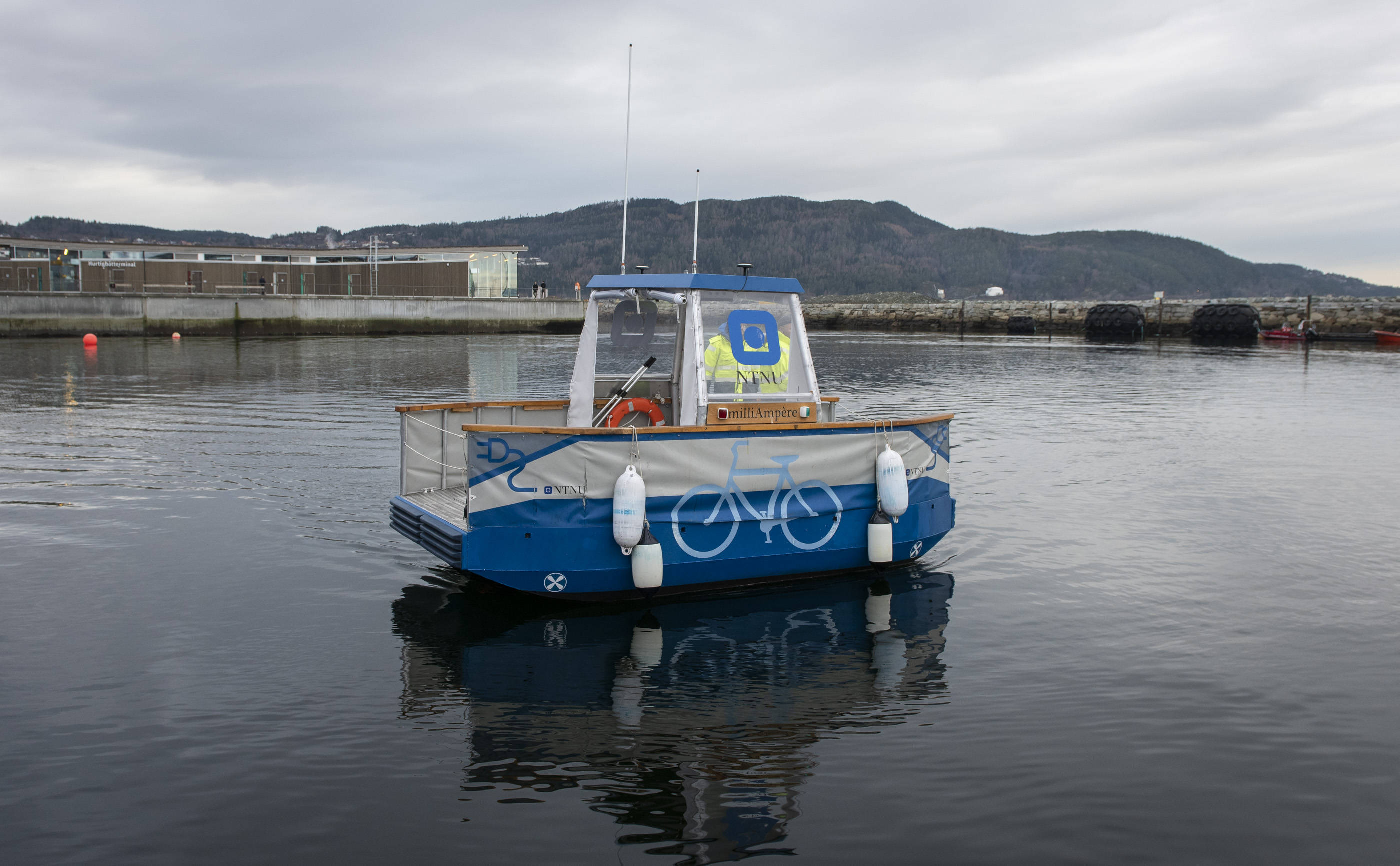 The boat's name is milliAmpère. It's electric and should put off and come alongside with passengers all by itself. Right now, the technology is put to the test in Trondheim's canal. milliAmpère is a prototype, and also serves as a lab for the team of researchers working on it, so it's not fully self-driving just yet. It still needs someone to hold the controls. That someone is inventor and associate professor Egil Eide.   The boat has two propellers, one in the front and one in the back, providing propulsion and making it possible to dock both sideways and head on. In time, the intention is for the boat to ferry passengers back and forth across the canal all by itself.
"No electric autonomous (self-driving) passenger ferries exist anywhere in the world. Yet. There are rope ferries, which are either motorized and have an operator, or are operated by a handwheel," says Oddbjørn Rødsten, who is the project manager from NTNU Technology Transfer.
"Our project is a milestone in terms of making passenger transport more efficient across short distances in cities on the water," says Egil Eide.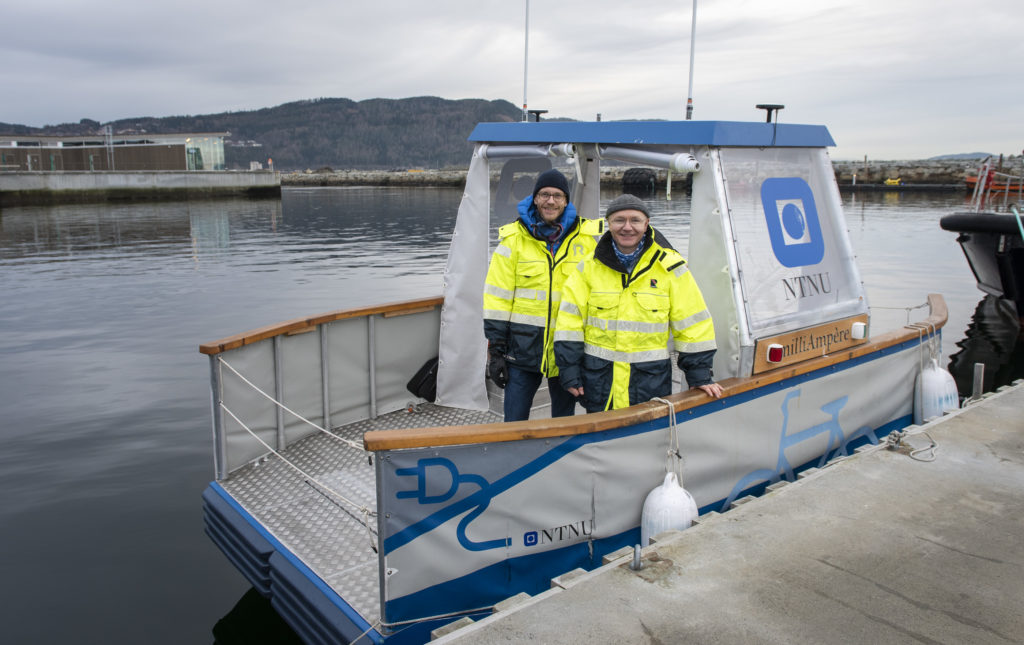 The future of transport
According to researchers, self-driving ferries are likely to become more and more common as a mode of urban transport. Cities are expanding all over the world, and urban transportation systems are getting overloaded. It's essential to develop effective systems that are simple, efficient and safe for users and not too costly for society. They should also be environmentally-friendly and simple to operate. In this type of segment, we find self-driving cars and ferries. The automobile industry has come a long way in terms of autonomous technology. While ferry transport lags behind, researchers are benefiting from the developmental strides made by the automobile industry.  Many large cities have waterways ideally suited for this type of transportation. Cities like Copenhagen, Stockholm and Oslo, for example, already have urban ferry services. Several of these may, in time, become autonomous. 
"This type of ferry is perfect for crossing a canal or river where people naturally want to cross, and where a bridge would be too costly. In Trondheim, the canal between Ravnkloa and Vestre Kanalhavn is perfect for our needs," says Egil Eide.
In the finished concept, passengers book a ride with an app or press a button at the landing. Cyclists and passengers are then ferried across to the other side, saving time compared to walking or biking all the way around.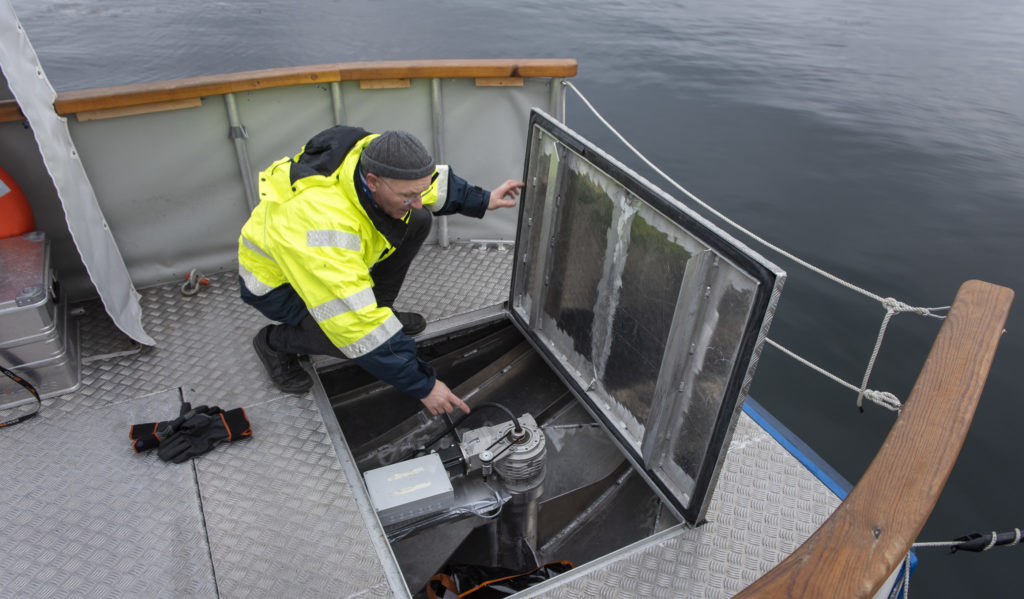 Strong teamwork
"In order for the passengers to feel safe on a ferry like this, it's important to make sure it won't crash into anything or anyone that may come along, it should be safe to get on and off, and the ferry should go where you expect it to go.  In order to achieve that, we need the technology to be rock solid," says Oddbjørn Rødsten.
"A self-driving electric ferry like milliAmpère must be equipped with GPS, radar and a laser scanner to recognize objects. In addition, it needs a regular camera and infrared cameras. These need to communicate and contribute to a safe crossing. The ferry also needs a system so that it automatically charges every time it docks," says Eide.
The prototype consists of a number of technological and system components and is the result of many years of research and development into autonomous systems, including sensor, anti-collision and positioning technology at NTNU.
The team behind milliAmpère is a strong interdisciplinary community including the Centre for Autonomous Marine Operations and Systems (AMOS), the Department of Marine Technology, the Department of Engineering Cybernetics and the Department of Electronic Systems, who have joined forces to develop the technology that goes into this type of vessel.
"It's quite the challenge to get all the different systems to communicate and act on the data that is collected. This has to be tested and adjusted again and again," says Egil Eide. "That's what we're planning to do this winter."
"We are also going to test if the system can recognize everything that is going on around it, and we plan to look into market opportunities and business models. The idea is that we sell these systems to boat-builders and others engaged in this type of transport. We don't foresee a situation where we are the ones supplying these autonomous boats."
Prototype in 2020
With a grant of NOK 1 million from NTNU Discovery, the team is planning to conduct some more in-depth testing and verification of procedures when the ferry puts off and comes alongside.
In addition to NTNU TTO, the team is working with the Trondheim Port Authority, who oversees the waters and surrounding quayside. The Norwegian Coastal Administration and the Norwegian Maritime Authority are also involved.
"These are public authorities, and we need them on board to make sure we have the right permits for testing. We are also working with DNV GL, and our reference client is Sundbåten in Kristiansund. They traffic the sounds in Kristiansund every day and have valuable experience. They want to invest in self-driving boats in the future," says Oddbjørn Rødsten.
"We have already secured enough funding to build a proper prototype for approx. 12 passengers, and hopefully, we can test this out on a larger scale from 2020. First on the agenda, however, is to complete the verification process for the technology on board milliAmpère," says Egil Eide, putting off.
Facts:
milliAmpère is 5 metres long and 2.8 metres wide and built from aluminium.
It has 2 electric 2kW motors for propulsion.
The ferry will be equipped with GPS, laser, radar and several types of cameras.
Kontakt:
Per Arne Wilson
Epost: per.arne.wilson@ntnu.no,
Kontortelefon: 73 59 02 99
Kontoradresse: Hovedbygget,
Høgskoleringen 1, Rom 007, 7012 Trondheim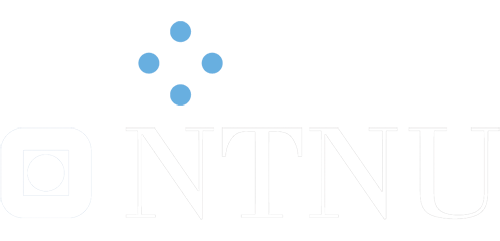 Brosjyrer og årsrapporter:
Bringer helse-Norge fremover