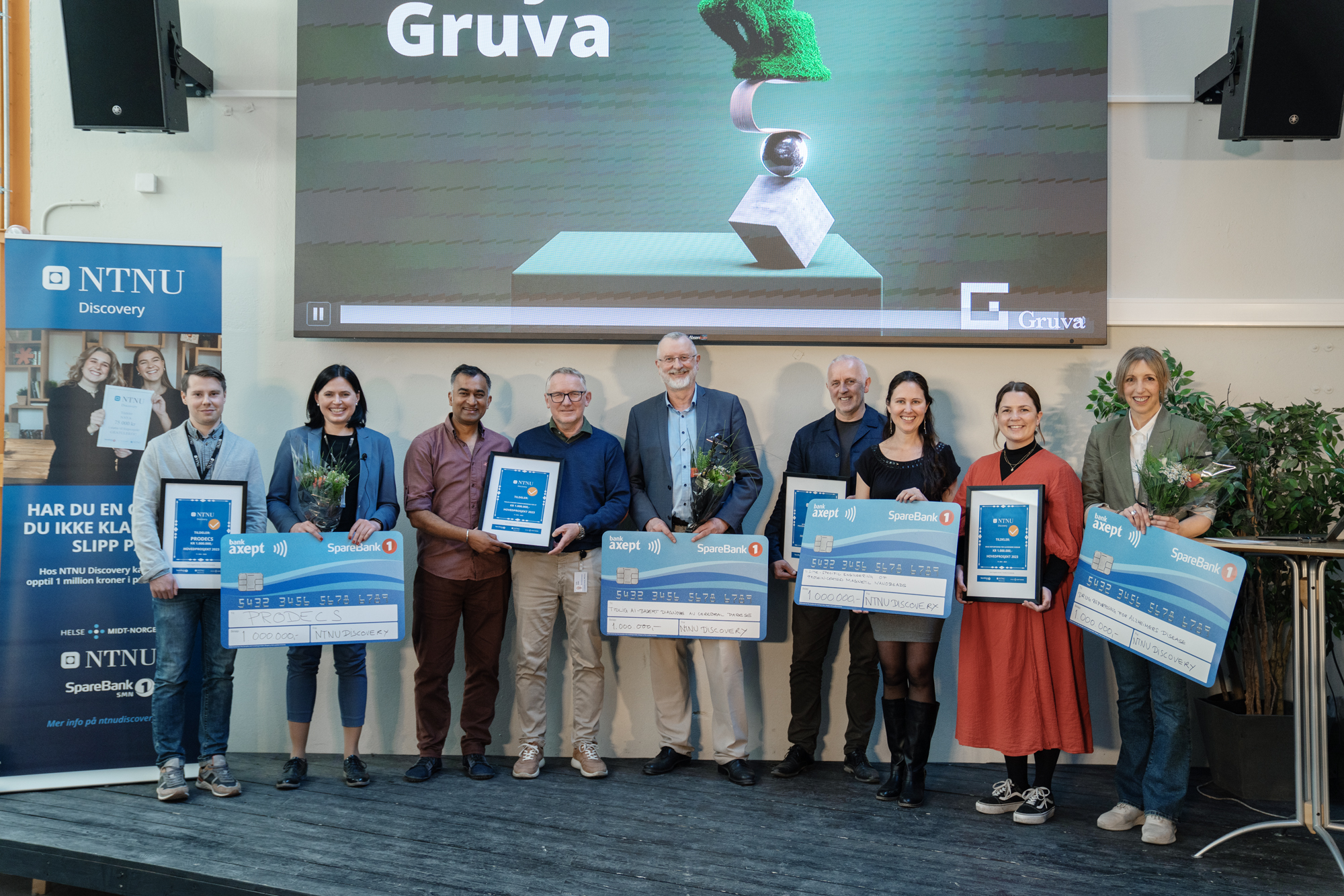 Recipients of the NTNU Discovery main project in 2023. Photo: Lars-Erik Berg.
Millions to NTNU inventors
A potential breakthrough in the treatment of Alzheimer's and a method for earlier diagnosing CP in infants were two of the inventions that received NOK 1,000,000 from NTNU Discovery today.
In total, four research teams from NTNU received millions to further develop their inventions.
Ioanna Sandvig, professor of neuroscience, leads a team with Axel Sandvig, are on the verge to a potential ground-breaking breakthrough in the treatment of Alzheimer's. Developing new drugs to fight Alzheimer's has proven to be very difficult and expensive. 98 per cent of the projects have failed, while other projects have become too expensive, had too little effect or too many side effects.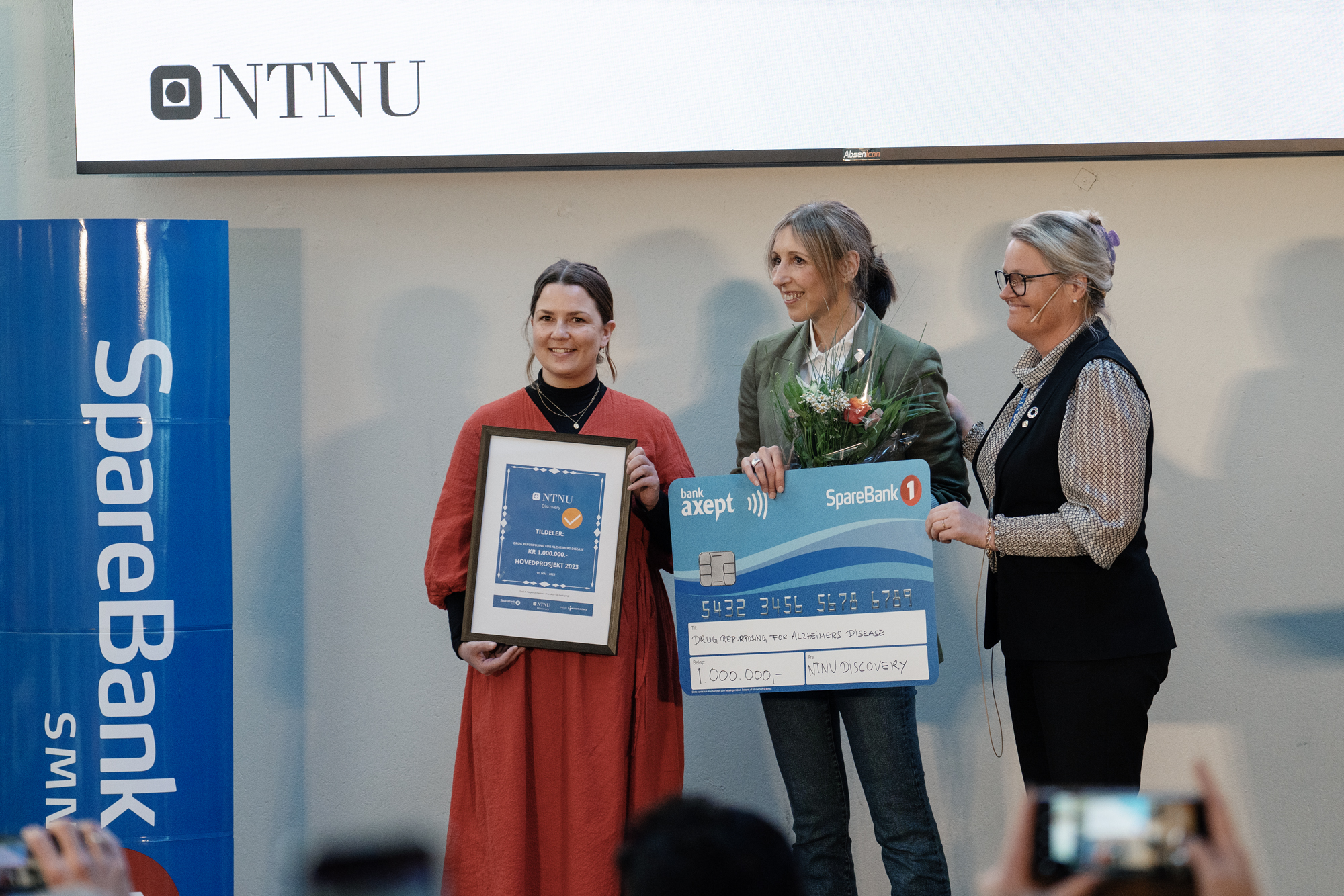 Vice director for innovation at NTNU, Toril Hernes, hands out NOK 1 million to Katrine Sjaastad Hanssen and project manager Ioanna Sandvig at the Department of Neuromedicine and Movement Science. Photo: Lars-Erik Berg.
New use of existing medicine
Ioanna Sandvig's team has taken a different path: They have discovered that a combination of two existing cancer drugs has produced very promising results in animal experiments. Their findings have attracted so much attention that they have already licensed the method to a pharmaceutical company.
"Our method has been shown to effectively reduce protein accumulation in the brain and improve brain function, including memory. With support from NTNU Discovery, we will be able to generate more results and investigate how these two medicines work together", she says.
As a researcher, she is cautiously optimistic. If they succeed, it will represent a significant breakthrough in the treatment of Alzheimer's patients . Using existing medicines that have already been developed and approved for human use is far cheaper and safer than developing a completely new medicine.
The following other projects also received grants:
Lars Adde leads a project that has developed a tool to diagnose infants with CP using motion analysis of video and artificial intelligence. The model can reveal CP as early as three months after birth , whereas today it can take one to two years before a final diagnosis.
Mirta Mittelstedt Leal de Sousa leads a team that develops protein-bearing nanobeans that can bind more antibodies than market-leading products today. This could potentially provide a more accurate and effective treatment of cancer and other diseases.
Verana Hagspiel and Semyon Fedorov received support to further develop the software Prodecs, which will provide a simpler and better decision-making basis in energy industry projects. Although there is great financial uncertainty associated with such projects, evaluation and decision-making are often simplified. With Prodecs, the industry will be better equipped to predict which projects will be financially sustainable.
New revolutionary ultrasound technology. A smart sensor that automatically monitors the condition of electrical machines. Thursday November 9th, NTNU Discovery awarded NOK one million each to two promising innovation projects developed by researchers and employees at NTNU and Helse Midt-Norge.
You can soon apply for support for the main project with up to NOK 1,000,000 for employees and NOK 300,000 for students. The application deadlines in 2023 is 1. March and 15 September.
Contact:
Project Manager
Jan Hassel
Email: jan.hassel@ntnu.no
Telephone: +47 906 53 180
Office: Main building

Håvard Wiebe
Email: havard.wibe@ntnu.no
Telephone: +49 414 73 768
Office: Main building