New procedure for tissue sectioning
Tekst: Anne-Lise Aakervik
Foto: Synlig.no v/Erik Børseth
Cutting thin sections from a prostate gland is challenging. The sections are meant for research use, and therefore need to adhere to strict standards. TrollLABS of NTNU rose to the challenge of developing a new procedure for sectioning that does not damage the tissue.
.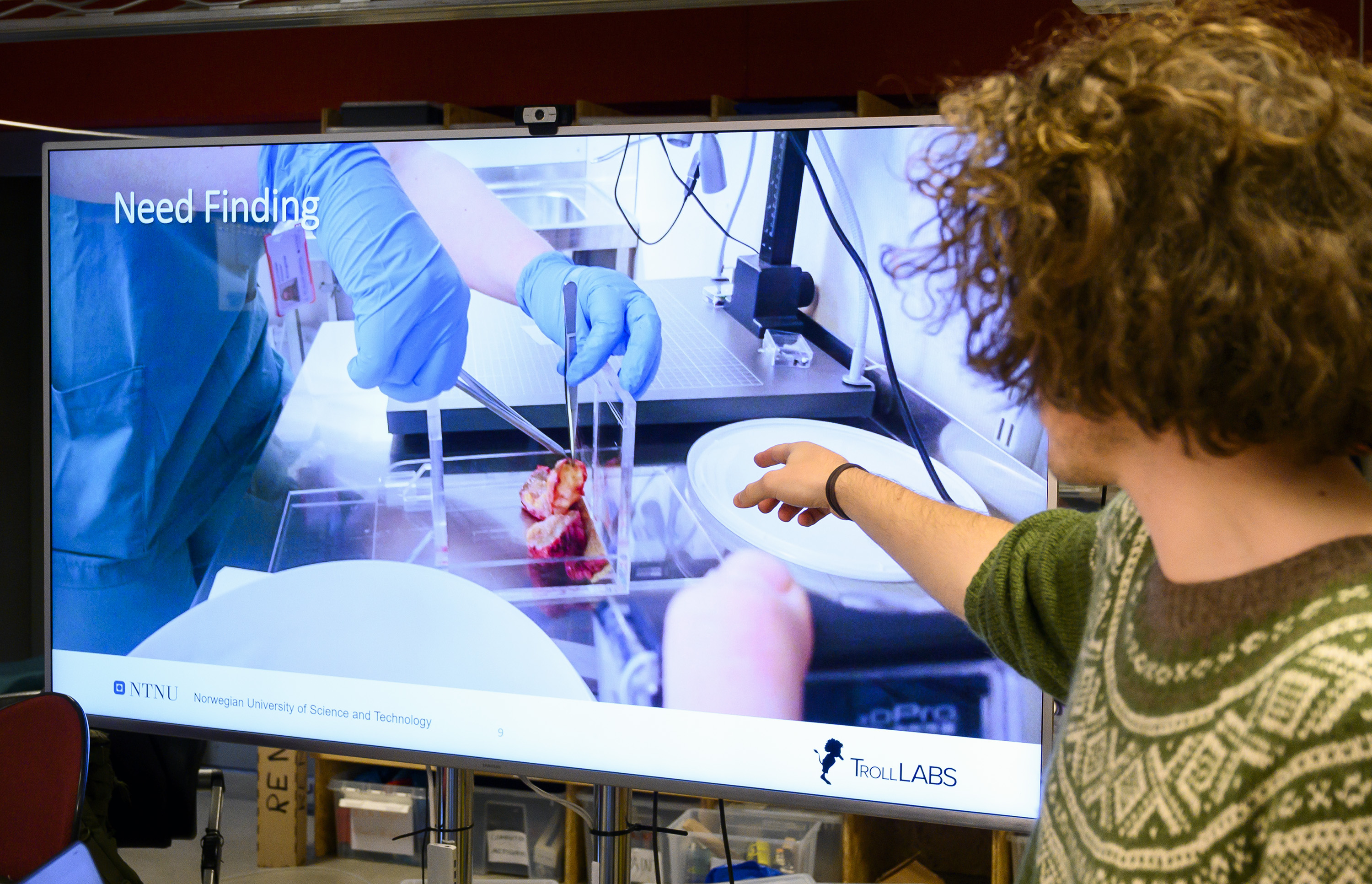 Cutting thin sections from surgically removed prostate glands is difficult. A new procedure and a new tool are required to improve success rate.
A part of the Faculty for Engineering Science, TrollLABS has been working on this project for about a year. Through a pilot project funded by St. Olavs Hospital, they have identified the key requirements and developed a functional prototype.
We are talking soft grips and unconventional cutting mechanisms. Quite far removed from the current procedure developed at the hospital, consisting of putting the prostate in a plexiglass container, then taking a sample using two thin blades inserted into a slot. This procedure implies putting pressure on the prostate itself both from the sides and from above.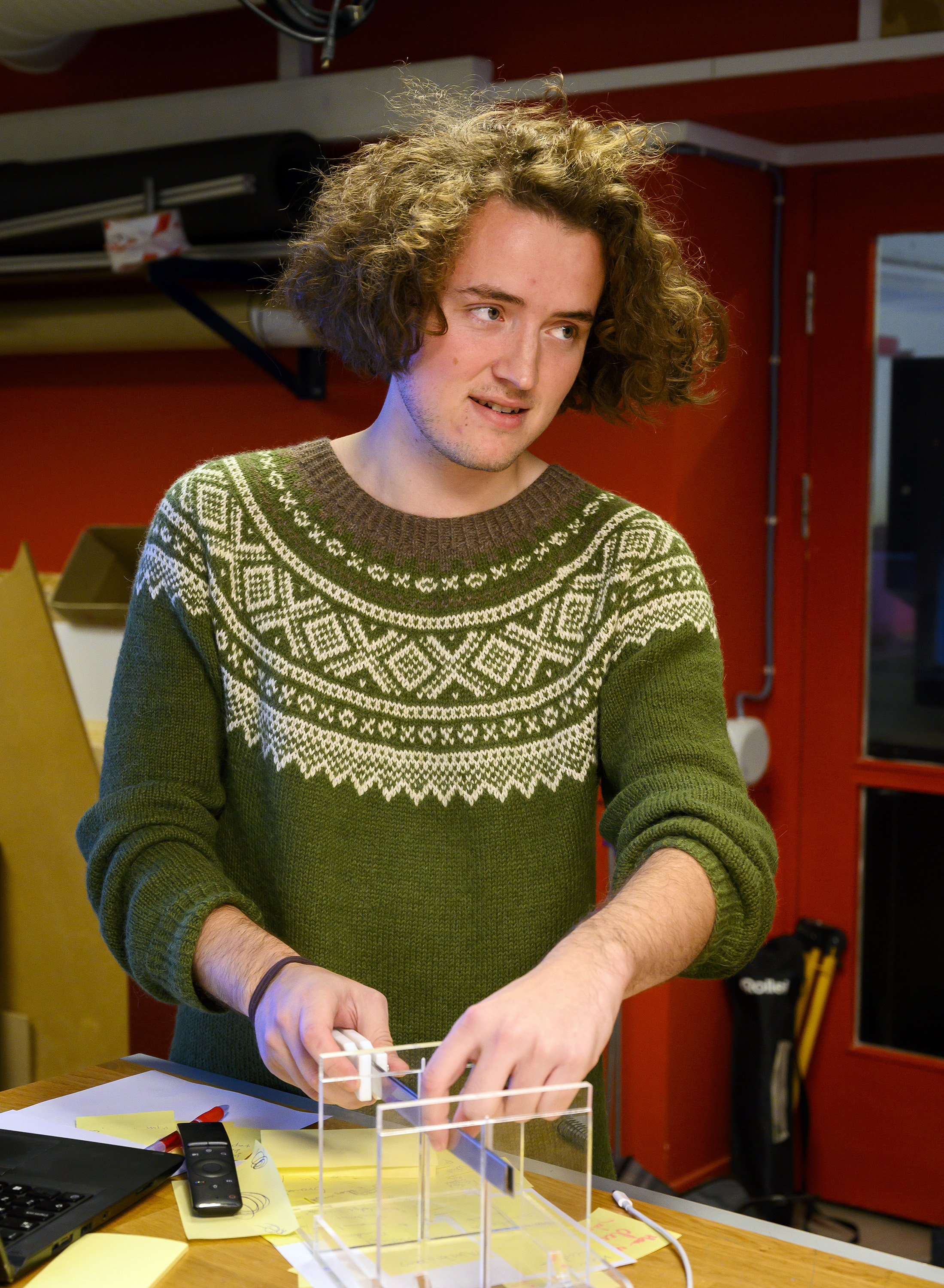 Researcher Håvard Vestad with TrollLABS demonstrating the tissue sectioner that is currently in use. It puts a lot of pressure on the gland, and offers too little control over the end result.
This is biobanking
Biological material from patients is a valuable resource for researchers, yielding vital insights into patients' anamneses and underlying causes. In the future, this may act as a basis for more precise diagnosing and patient-specific treatment.
This is called biobanking, and it takes place on a large scale, worldwide. In Norway, there are several such units. Among them is Biobank 1, located at St. Olavs Hospital, but involved in activities at several other Norwegian health trusts as well. From here, researchers may collect materials for research projects.
Prostate samples
At St. Olavs Hospital, tissue samples are collected from anyone undergoing surgery for prostate cancer. This is of course done after the prostate gland is removed from the patient. For diagnostic purposes, the prostate samples are chemically dyed in order to illuminate the cancerous tissue, and these samples therefore cannot be used for cellular medicine or genetic research. Thus, an additional tissue sample is collected from the center of the prostate gland. A thin section is cut, and immediately put into deep freeze.
For tissue samples to be applicable as research material, they need to be collected in an effective, controlled and robust way. Moreover, it needs to be performed identically by everyone, so that the researchers' material is comparable.
To succeed with cutting thin sections, both technique and equipment must be first-rate. A prostate gland can be small or large, and is notoriously difficult to cut. Successfully cutting a sufficiently thin section without for example using your hands is difficult with the technique currently in use. The gland is at risk of being both deformed and compressed in the process of collecting the tissue sample. From a research standpoint, this is undesirable.
New procedure
Biobank 1 therefore wants an easier procedure, one which is eligible for standardization and retains the shape of the gland.
– With the NTNU Discovery funding, we will proceed with our very promising pilot project, says Håvard Vestad from TrollLABS.
– We have worked quite a lot with prostates recently, in combination with various soft materials. We are quite advanced in that area. We also need to look at how to cut precise sections while avoiding squeeze, pinch or slippage damage to the prostate.
Innovative method
TrollLABS are known to solve the most unsolvable challenges. Their approach is unique and untraditional. There is a lot of play and exploration before the real work starts. This often yields new and surprising outcomes.
– We have already developed a cutting method. We will hold on to that, along with several areas of improvement. Our core idea is having as little mechanical force as possible interfering with the tissue. Preliminary tests show that our procedure greatly reduces pressure on the tissue. This makes it easier to handle the process effectively, and increases accuracy with regard to localizing the cancerous cells.
With the financing in place, TrollLABS will now, along with Biobank 1, take the prototype to a new level, making it possible to test it in external hospitals. They hope their results will lead to a product that can be used globally in such processes.
– The market for biobanking is huge, and we believe there is a strong market potential for our product if we decide to go in a commercial direction, concludes Håvard Vestad.
Kontakt:
Prosjektleder
Jan Hassel
Epost: jan.hassel@ntnu.no
Telefon: 906 53 180
Kontor: Hovedbygget, sokkel

Håvard Wibe
Epost: havard.wibe@ntnu.no
Telefon: 41 47 37 68
Kontor: Hovedbygget, sokkel