Controlling gel consistency
Tekst: Anne-Lise Aakervik
Foto: synlig.no
By controlling how rapidly a gel solidifies researcher David Bassett is able to 3D print gel structures containing living cells.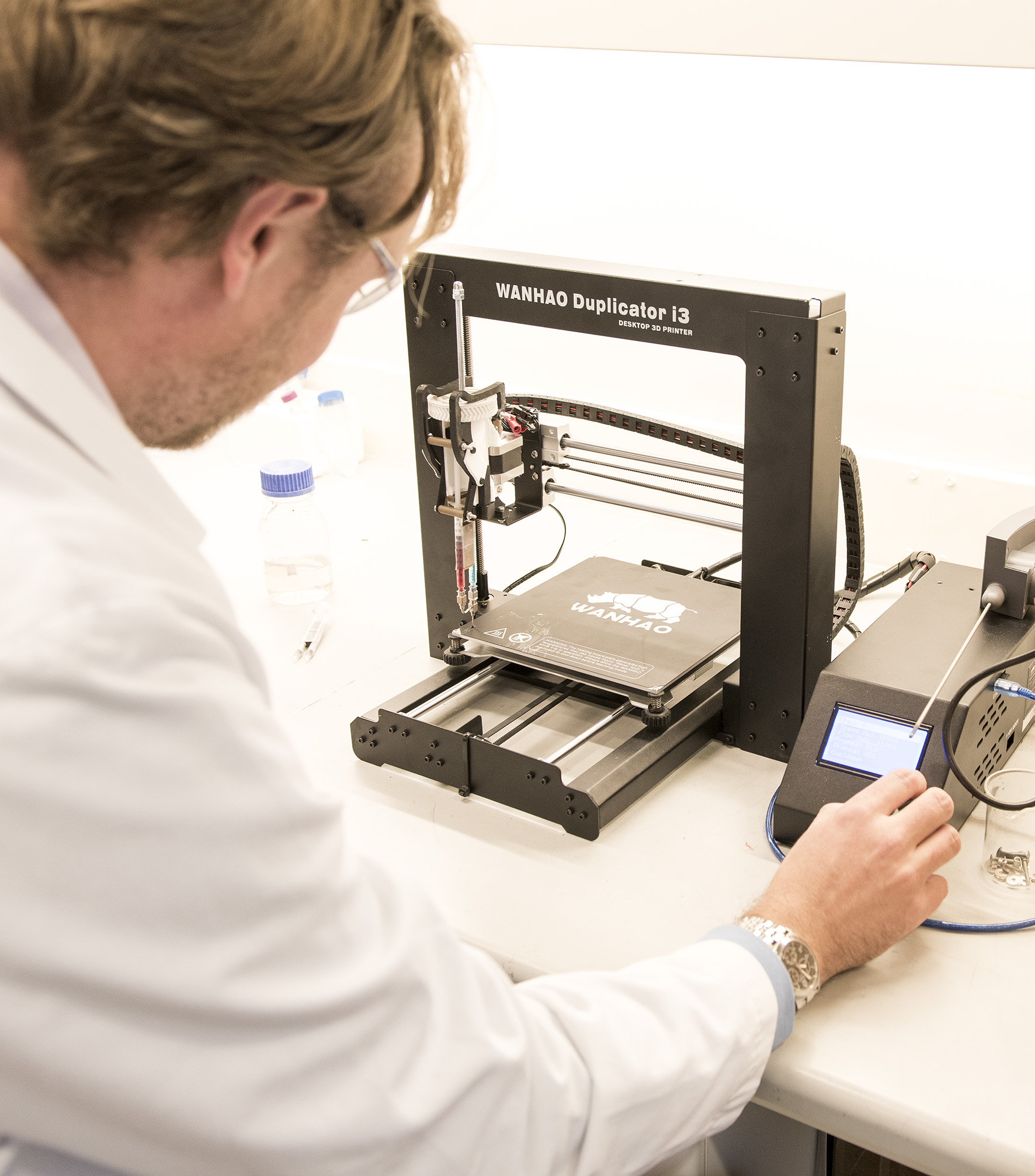 Why would you want to do that, you may be wondering? There is a growing need for new approaches to reconstruct tissues and organs of the human body that do not work anymore. By mimicking human tissue in the lab we can create synthetic alternatives that can fill the gap in surgical or pharmaceutical approaches.
The desire from the researchers is to use a patient's own cells to help heal the body naturally. This is where the alginate gel comes into its own, especially gel made from seaweed and kelp. This type of gel is particularly compatible with human cells. Cells survive, grow and thrive in this type of gel, which makes it well-suited for biomedical applications.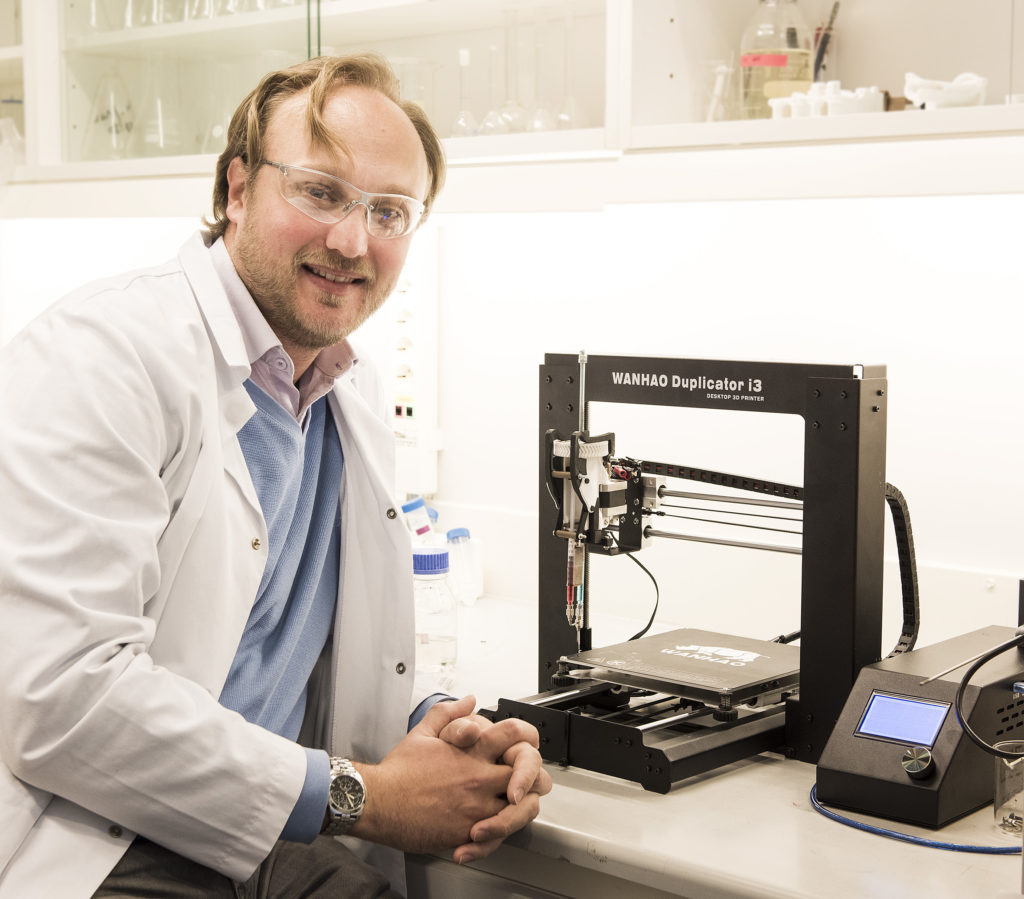 David Basset utforsker hvordan kan kan kontrollere hvordan en gel stivner slik at det er mulig å bruke den i 3D-printere. Da kan den være mettet av levende celler og inngå som en ingrediens i printing av et øre for eksempel.
From gel to print
In order for this material to be used in 3D printing in combination with cells the researchers must be able to control the process in a way that is compatible with cells. The challenge is to have good enough control when the gel goes from liquid to solid form, to create intricate architectures such as those found in the body. And that is exactly what scientists and inventors David Bassett and Armend Håti have done. "By controlling the process we are able to structure the gel in the form we want it before it hardens. And by having control over this we can use it in a 3D printer, says David Bassett."
The research project funded by NTNU Discovery was intended to prove that liquid gel can be used in 3D printing.
"I bought a 3D printer that is available off the shelf. Then I adapted it so it could print my gel rather than hot plastic, which it is designed to do. This was the core of the project; the fact that I was successful in making the printer work with the gel in the way we wanted. That enables us to use the gel in further research, says Bassett.
Straightforward, yet elegant
" The method for controlling the process is relatively straightforward and elegant, says Suzanne Øverlie, Project Manager with NTNU TTO. "It's almost strange that nobody has thought of it before. A patent application is submitted and it looks promising.
"Practically speaking, the gel is made by mixing one solution with another. The result is a firm, but flexible gel. In the procedures we have so far, the substances we use to control the gelling process are not particularly cell-friendly and therefore can't be used in connection with biological applications. Existing methods do not give us the control needed for application in 3D printing, so our method solves two major challenges for bio printing." David Bassett explains.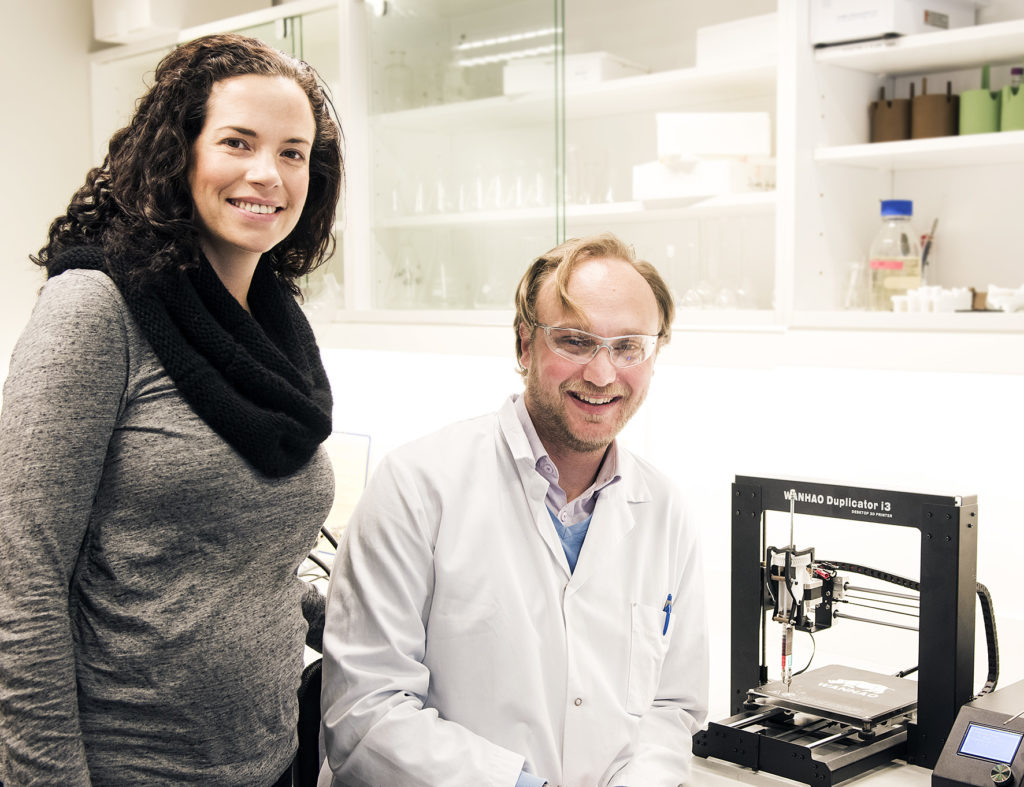 Suzanne Øverlie som er prosjektleder fra NTNU TTO jobber tett med Basset og teamet for å komme i mål. 
The team also secured a grant from FORNY – and in this pilot project they looked in to methods for encapsulating cells within microscale beads using a modern technique called "Microfluidics". This is a relatively new field, and initially they struggled with established methods of gelling which led to the blocking of the tiny channels and also resulted in the death of cells shortly after encapsulation.
"With our method we can encapsulate a single cell in a picolitre drop of gel. This opens up a wide range of applications, including so-called "lab on a chip" applications. In a wider perspective, this material can be used to deliver medication anywhere in the body, or perhaps even generate "human spare parts", even though that is a tall order. Our main motivation in this is to give the body a helping hand in repairing itself, and the cell-infused gel could be exactly what we need," says David Basset. "In time, this may open the door to a wide range of opportunities in biomaterials.
Kontakt:
Prosjektleder
Jan Hassel
Epost: jan.hassel@ntnu.no
Telefon: 906 53 180
Kontor: Hovedbygget, sokkel

Håvard Wibe
Epost: havard.wibe@ntnu.no
Telefon: 41 47 37 68
Kontor: Hovedbygget, sokkel